KB Article: 12689
KB Category: [In-Game/Game Contents]
KB Sub-category: [ Additional Services]
Where can my purchased registration codes be viewed?
The registration code is needed to unlock content on the SQUARE ENIX ID. If purchased from the SQUARE ENIX Online Store, you should receive the code as noted below:
1) Once your order has been confirmed, you should receive a confirmation email containing a button to "Click Here To Get Access To Your Products" which will take you to a page to Unlock any purchased codes.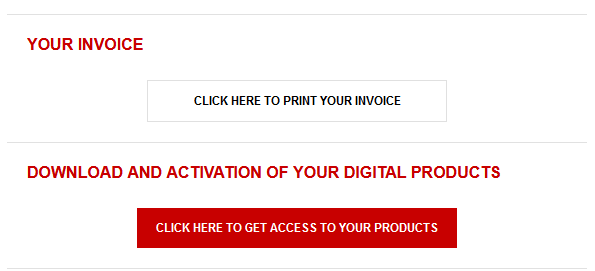 2) If you have confirmed a purchase on the SQUARE ENIX Online Store but still have not received a confirmation e-mail, please contact the SQUARE ENIX Support Center with your Order Number at the following link:
If you are having any issues with your order directly, please contact the SQUARE ENIX Online Store support team at
https://sqex.to/storesupport