Users who have been recruited by a friend to play FINAL FANTASY XIV can enter their recruitment code through the Mog Station.

■ Instructions

1) Log into the Mog Station with the SQUARE ENIX Account you will use to play FINAL FANTASY XIV. (https://www.mogstation.com)
2) Click on "Your Account" at the top left of the screen.





3) Select the service account you wish to apply your recruitment code under "Select Service Account."
4) Click on the "Enter Recruitment Code" button under the "Registration Codes" section.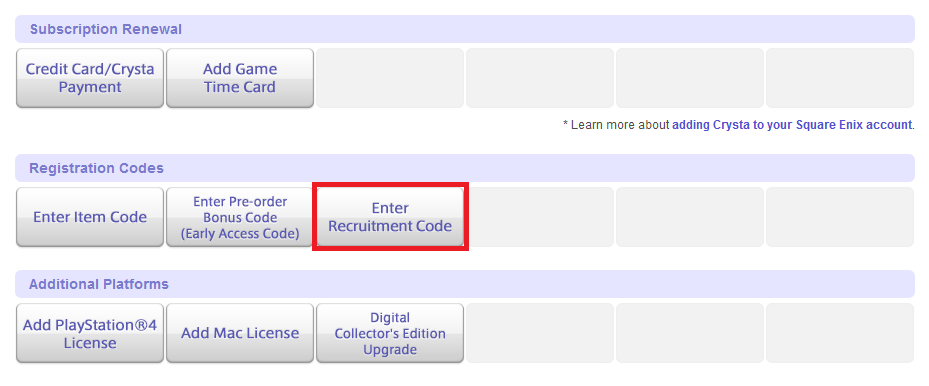 5) Follow the on-screen instructions to register your recruitment code.

■ Caution

The recruitment code can only be used on a service account that has a retail version of the game registered to it and has not yet paid for a subscription.

A recruitment code cannot be entered if any of the following applies to your account.

· You have paid for a subscription in the past through the "Add Game Time Card" option.
· You have subscribed through the "Add/Change Subscription" option and have paid for subscription days after your free trial period has ended.

If you have subscribed through the "Add/Change Subscription" option during your free trial, you may still enter your recruitment code during the free trial period.

Customers who played version 1.0 but have not played from the FINAL FANTASY XIV: A Realm Reborn launch and on (and have not paid through the "Add Game Time Card" options or subscribed through the "Add/Change Subscription" option) can still be recruited.

For the most up to date information on items received, restrictions, and requirements for the Recruit a Friend Campaign, please visit the official site:

https://na.finalfantasyxiv.com/lodestone/special/friend_recruit/
FAQ Article: 70973
FAQ Category: [Product Specifications] [Official Website] / FAQ Sub-category: [Products & Services] [Mog Station]