KB Article: 56911
KB Category: [In-Game/Game Contents]
KB Sub-category: [Rules and Policies]
About In-Game Support
In-Game Support
Game Master (GM)
In-Game Support in FINAL FANTASY XIV is provided through our Game Master (GM) support team. GMs are members of the SQUARE ENIX staff and work to ensure a fair, safe, and fun experience for all of our players.
Communication with Players
If you have placed a GM Call, a GM can respond via several channels, including:

•Speaking directly with the player
•Support Desk Message (As a reply to a user's GM Call)

In-Game Chat GM Appearance
Game Masters in FINAL FANTASY are easily recognizable due to several distinct features which are exclusive to GMs:

・Unique Name
First name is "Rep"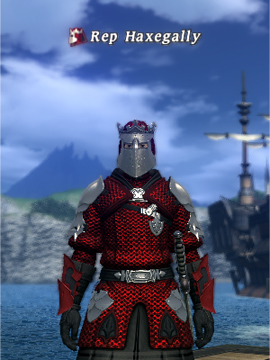 ・Unique armor
Red in appearance
・ Unique Icon next to their name
GM Helmet Icon next to the name
Contacting a GM
In order to contact a GM, you will first need to submit a GM Call via the in-game Support Desk feature.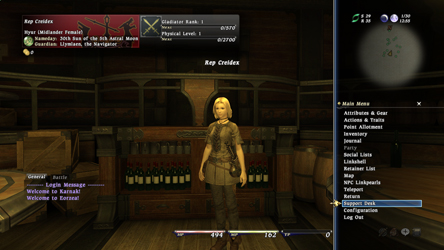 From there you are presented with a list of common issues and solutions. If you are unable to find a solution to your issue from the list, press the "GM Call" button located on the bottom of the article. This will provide you with a form to fill out to submit your call to a GM.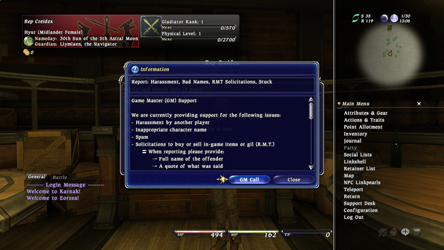 Please note, the "GM Call" button is not available for all issues. The "GM Call" button will only be made available for the types of issues a GM is able to directly assist with. The following list has been created to help FINAL FANTASY XIV players better understand the types of issues a GM can assist with. Please click on the link provided for greater detail regarding the issue:
Issues that a GM will assist with: